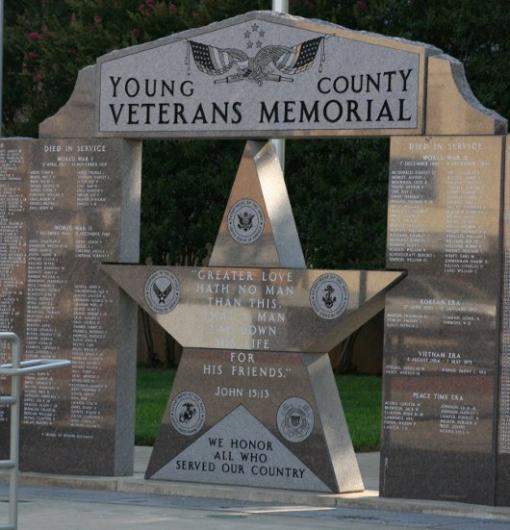 About This Website
We owe them all so much...
This website is dedicated to the Veterans of Young County, Texas, who have served in our country's military. It is a "work in progress".
Our initial source for information was a mid 1940's "annual-type" publication which honored the Men and Women from Young County, Texas, who served during WWII. We appreciate the huge effort at the close of World War II to compile and publish the names, bios, and pictures of those who served. We hope to keep that information available to future generations. Every effort was used to keep the look and feel of that book, including older abbreviations. Each entry has been re-typed to make it easier to search through the information.
After entering the names from the 1940's book, we continued to add names of Young County Veterans. We have added names from the Young County Veteran's Memorial from World War I, World War II, and the Korean Era, Vietnam Era and Peace Time Era. There are over 5,400 names on this site to date. This information has been submitted with the intent of honoring the service and memories of these Young County Heroes and their families. Credit should be given to Dorman Holub for his original research 19 years ago and in bringing the names to the Veteran's Memorial Wall in Graham, Texas.  He invested over 3500 hours and 2,000 miles of research.
The Young County New Century Veterans' Memorial (NCVM) Committee took on the two year task of collecting names of veterans and active duty from the 21st Century. On July 4, 2018 the new engraved granite wall was unveiled in downtown Graham. These names will be added to this site to honor their service.
This site DOES NOT add names to the Memorial Wall in downtown Graham but we are including the original contact information for the addition of names. Please check out NCVM Facebook Group and contact information for more details.* 
If you are in Graham, make plans to drive by the courthouse and view the wall in person. It is worth the drive. There is even a War Dog Memorial!
Site Hints: You may view all the names on this site by clicking on the "BROWSE VETERANS LIST" at the left hand side of the screen or by using the "SEARCH" feature. Please consider spelling variations of names as you search. There may have been typographical errors in the original work or in transcribing it for this site. You may "CLICK" on any name to view their information or pictures added to this point.
You DO NOT have to create an account to view the information. If you would like to add a comment, simply register your username and "LOG IN". If you know the name of a Young County, Texas Veteran whose information is not on the site, please contact us so that we can honor them as well. We welcome pictures or information about the veterans. We plan to allow registered users the capability to add names in the future. All submissions are reviewed prior to publication to this website.
A special "Thank-You" to Corey Pennycuff for web design and his hard work on this site.
Help keep Young County history alive and available on the net. Link to the site freely, but please, do not copy or sell this information.
Thanks! Kathy Pennycuff
*Veterans may submit a copy of their DD214 while active duty personnel may submit copies of either an official personnel document showing his or her home address at time of entry or the Home of Record (HOR) as Young County or a DD214. The form may be downloaded   here  . Forms may be dropped off at the Young County Clerk's Office in the Courthouse or mailed to:
Young County NCVM Committee
P.O. Box 925, Graham, TX 76450
For more information call Larry Hamilton at 940-532-1118 or see the NCVM Facebook Group.